Due to Jitsi's new policy, it is no longer possible to utilize this free video conferencing tool.
So many things has changed since the corona virus. I was teaching from home. In 2020 during the May holiday we stayed home.
It was a beautiful spring with so much sun… and we were still staying home.
 King's Day was also during the Holiday and normally I would be out and about, and at the end of the day head for a cafe to celebrate.
Annnnnd it's was birthday in April… where I would at least meet up with friends and share drinks.
I was missing connection…
So what to do? Indulge in Netflix? TikTok? Insta? Decided instead to do what I most love to do, which is to create… create what I was missing, and play while learning. I launched the Beta version in April on my birthday and invited people to celebrate with me in the online cafe, called "Quarantaine Café", (the site is in Dutch) where people can drop by, see and chit chat with each other, meet new friends and share your favourite music with the whole cafe…. all online.
Quarantaine Cafe is created with Divi WordPress, BuddyPress & Jitsi Integration… all with love.
I launched the beta version of Quarantaine Cafe on my birthday in April.
The beta version had a login page and different cafe options. With some great feedback, I quickly realized that it was way too much work for the user to do just to enter the cafe! So that had to end – I simplified it. Now it is only one click on a button and they are in the online Quarantaine Café. Creating a fun and seamless experience is paramount. And now, I have already met some wonderful people who have stopped by for a hello and chat with others. Very exciting.
In May I got a phone call from the journalist Tom Grosfeld, from the Dutch newspaper Het Parool, for a little interview. Here is the article. So excited. The article got also shared in the Dutch newspapers Algemeen Dagblad, Eindhovens Dagblad and the Gelderlander.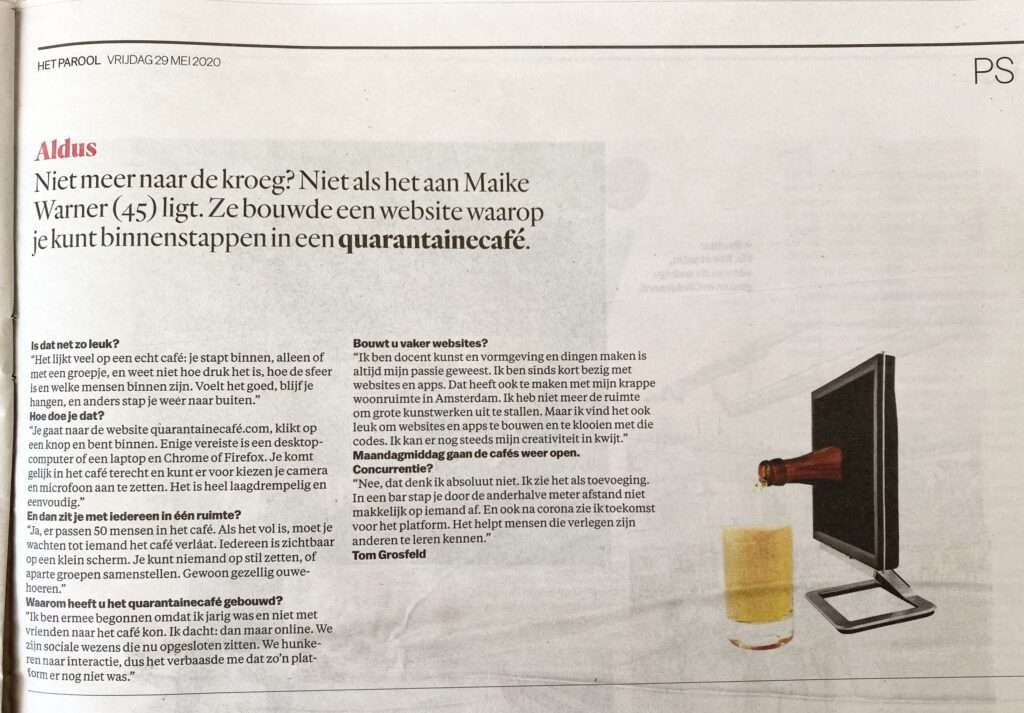 "This morning I come across the Dutch online newspaper 'Algemeen Dagblad', that a teacher / artist in Amsterdam has started a quarantine café in the cyber ether. I had a great time with a lot of fun and curiosity with a dozen people, some of whom kept breathing gently behind their virtual lens cap. The eccentric in me had a blast, giving attention, tasting and receiving from sympathetic strangers who, like me, want to satisfy social hunger with eye contact and storytelling. We all have fun, compassion and attention to each other. Fast forward to what deeper layers of our shared human existence and how I have been meaningfully and warmly healthy here in Arizona for 34 years. And so also in this beautiful virtual room today! Thank you Maike, I'll hope see you soon in the digital pub again!"
Arjen